emergency plumber adelaide
Your local plumber Lucas Plumbing and Gas Solutions can fix your plumbing problem fast! We are the emergency plumbing specialists.
We are reliable and cost effective plumbers that can fix your plumbing problems fast.
Need a plumber….FAST?
Sometimes when you need a plumber or gas fitter it may be in an emergency situation. It is difficult to know who to trust out of all the emergency plumber Adelaide has to offer.
Lucas Plumbing and Gas Solutions can assist you by offering and emergency service for your plumbing or gas fitting. We offer honesty and transparent pricing with good old fashioned customer service.
There are many situations such as a faulty water heater, burst pipes, leaking pipes or gas leaks that this type of emergency service may be necessary.
Simply give us a call and let us look after it for you.
INTERESTED IN OUR SERVICES?
Types of plumbing emergencies
There is no doubt that when a pipe has burst or gas is leaking that people may become panicked by the situation that is at hand and this is why Lucas plumbing and gas solutions offers an emergency service to allow you to have your Plumbing and Gas issues fixed as quickly as possible to avoid further stress.
Leaking pipes
Faulty hot water heaters / Heat pumps
Gas Leaks
Blocked Drains
INTERESTED IN OUR SERVICES?
WHAT'S WRONG WITH MY HOT WATER SYSTEM
Whether you have a Rheem hot water system, Vulcan hot water system or another brand – solar, electric or gas, sometimes you will run into problems. And when you do – you want it fixed fast! There is nothing more disrupting to a household than no hot water.
Here are some common problems that might arise with your hot water system and some tips on what you can do to diagnose them
No hot water
For an electric system, check the fuse or circuit breaker on your switchboard. If you find the system has tripped the circuit breaker contact Lucas Plumbing and Gas Solutions on our emergency hotline.
On a gas system, check the pilot light before giving us a call first. Most gas hot water systems, such as a gas bosch hot water system have instructions on how to re-light the pilot light.
Little to no hot water flow
Some hot water brands, Saxon hot water or Aquamax hot water, for example, have an isolation valve in the hot water system, check this setting before calling a local emergency plumber.
Hot Water system leaks
A leak in your hot water system, particularly in the cylinder will mean the system needs to be replaced. Our licensed plumbers can give you advice on the best hot water brands to use, such as Rheem hot water and Vulcan hot water. And you can rest assured that your new hot water system will be more energy-efficient saving you money on your energy bills.
Cont…
INTERESTED IN OUR SERVICES?
WHAT'S WRONG WITH MY HOT WATER SYSTEM
Broken Solar Collector
A broken solar collector will cause problems with your hot water supply and should be attended to as a priority. If you have a flat panel collector, you'll probably need to have it replaced. An evacuation tube collector will only require the broken tube to be replaced. Also, if you have an evacuation tube collector, you'll probably be aware that it can still function with broken collectors. However, be mindful that this is not the most energy-efficient way to run this system, and your energy bills will increase as a result. A broken evacuation tube collector should be treated as an emergency.
Strange noises coming from the hot water tank
Several things can cause your hot water tank to make weird and wonderful noises, and either way, noises coming from your hot water tank is a sign that there is something wrong! This is a job best left to the professionals such as the fully licensed and qualified plumbers from Lucas Plumbing and Gas Solutions.
Our emergency plumbing hotline can be contacted 24 hours a day, 7 days a week – 0433 388 517.
INTERESTED IN OUR SERVICES?
HOT WATER EMERGENCIES
One of the more common emergency plumbing issues is when a hot water heater stops working. Nobody likes to have cold showers, so this is where a local plumber like Lucas Plumbing and Gas Solutions can come to the rescue. You can contact our plumber online and we can get back to you quickly or give us a call. We can replace a wide range of hot water systems including:
Continuous flow
Solar hot water systems
Electric hot water system
Gas hot water systems
We also can fix and repair a large number of hot water brands
rinnai hot water system
bosch hot water system
aquamax hot water system
saxon hot water system
dux hot water system
vulcan hot water system
rheem hot water system
chromagen hot water system
Our plumbers/gas fitters will be able to install your gas hot water system quickly so you can go back to having a continuous flow of hot water again.
INTERESTED IN OUR SERVICES?
HOW TO AVOID BLOCKED DRAINS AT HOME
Adelaide homeowners can help prevent plumbing emergencies, such as blocked drains, by taking care of what they pour down their kitchen sinks.
Often we are aware of what NOT to flush down our toilet (baby wipes, sanitary products etc.) but usually, we're not so mindful about what goes down the kitchen sink. Over time, there can be a build-up in the drain or further down in the underground pipes that can cause costly plumbing problems.
Being aware of what you are pouring down the sink can help prevent some of these issues. Here a few items that are best put in the bin rather than down the drain:
Flour – never pour flour down the kitchen sink. When you add water to flour it creates a batter-like mess that can easily block your pipes;
Eggshells – the sharp edges on eggshells (even, crushed eggshells) can stick to other objects coming down the drain causing a blockage;
Coffee grounds – coffee is hugely water absorbent and can cause a blockage in your drain;
Grease and Fat – once the pipes cool, grease and fat can solidify and is one of the leading causes of blocked kitchen sinks;
Starchy foods – just like coffee, foods that are high in starch such as potatoes, rice and pasta are highly water absorbent;
Sticker labels on fruit – these are non-biodegradable and can build up in your pipes causing a blockage.
It is sometimes possible to clear a blocked drain at home using a plunger. Avoid using harsh chemical drain cleaners as these can sometimes cause your pipes to erode over time, creating an even bigger issue to your home plumbing.
A local emergency plumber can get to the bottom of a blocked drain using CCTV technology and other specialised tools to clear the blockage without causing any further problems to your home.
INTERESTED IN OUR SERVICES?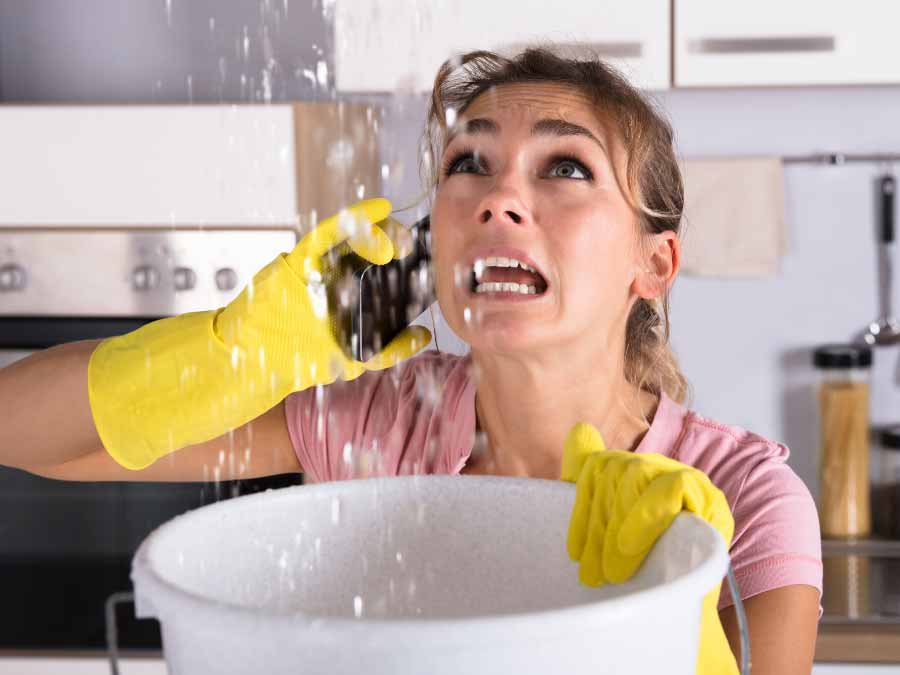 PLUMBING EMERGENCIES YOU NEED FIXED FAST!
When it comes to any plumbing problem, it's always best to have a local Adelaide plumber such as the fully licensed and qualified team from Lucas Plumbing and Gas Supplies, attend to the problem as soon as possible. Minor plumbing problems that are left often become major (read: expensive) plumbing problems.
Some plumbing emergencies need to be fixed FAST. These are the ones you shouldn't wait for, the ones that need to be fixed straight away.
Sewage backing up
This one speaks for itself if your sewer lines are blocked, causing sewage to come out of your sinks, bath or shower, call a plumber now!
Tree Roots in a sewer pipe
Sometimes, those beautiful trees in your garden can cause significant problems for your underground pipes. If you can smell sewage in your home or if your sewer line is backed up, you'll need to arrange a plumber to attend immediately. Most plumbers have specialist technology, such as CCTV technology that can get to the root (no pun intended!) of your problem straight away.
Blocked Drains
It is possible to clear a blocked drain with a little bit of DIY action using a plunger, however, if that fails you'll need to arrange for an emergency plumber to clear the blockage. Always remember to avoid flushing unsuitable items down the toilet and be mindful of what you pour down the kitchen sink!
Hot Water Issues
Hot Water issues are the number one plumbing emergency. Sometimes your water heater might give off some warning signs such as strange sounds, rusty-coloured hot water, a slight leak in the tank or a change in hot water pressure or temperature. When you notice these signs, contact a plumber fast.
Other plumbing emergencies such as leak detection and repairs, leaking toilet or cistern repairs, pipe relining and carbon monoxide testing should also be dealt with by contacting an emergency plumber on their after hours emergency hotline. Often plumbers can arrange a payment plan or have no call out fee to help you manage the cost of repairs or replacements.
INTERESTED IN OUR SERVICES?
OTHER SERVICES
Lucas Plumbing and Gas Services is the plumber Adelaide trusts for a wide range of services. Not only do we deal with cctv drain camera inspections (drain camera inspections), but we can also do:
Gas Fitting
Leaking Taps
Drain Cleaning
Hot Water Units (Rinnai hot water is our preferred brand)
Heat Pumps
Residential and Commercial plumbing services
along with kitchen renovations, bathroom renovations and project management.
INTERESTED IN OUR SERVICES?
COMMERCIAL AND INDUSTRIAL SERVICES
INTERESTED IN OUR SERVICES?