SINK INSTALLATION ADELAIDE
Lucas Plumbing & Gas Solutions are experts in sink installation in Adelaide.
We are reliable and cost effective plumbers that can install your bathroom or kitchen sink fast.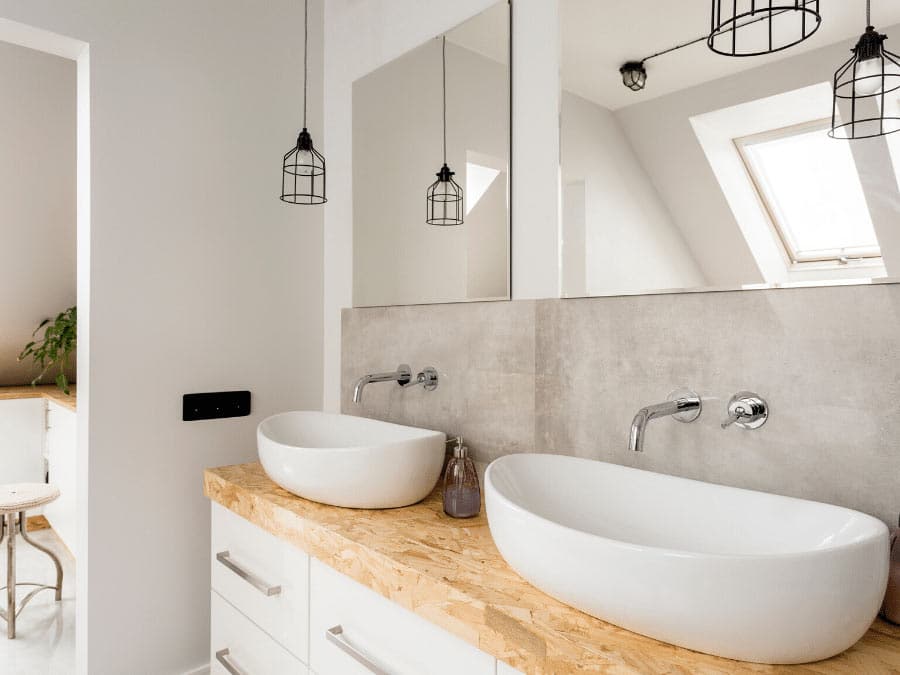 Adelaide Sink Installation – Call The Experts
When it comes to installation of a sink anywhere around your home or business, Lucas Plumbing and Gas Solutions are the experts that you can trust. We are able to install a wide range of sinks along with any fixtures and fittings that you may require. Whether it is a bathroom sink, kitchen sink or a laundry trough that you need installed we are the ones to contact.  Our expertise extends to not only sink installation, but we can also offer a complete various other types of home renovations such as bathroom renovations and kitchen renovations. Our general plumbing and gas services are also second to none, so you can contact us regarding all or your plumbing, gas and renovation needs.
When you are looking at getting a sink installed contact Lucas Plumbing and Gas Solutions.
INTERESTED IN OUR SERVICES?
Types of kitchen sinks
We can install a wide range of kitchen sinks and can either install or supply and install for you.
Types of kitchen sinks available:
Top Mount/Drop in sinks
Undermount sinks
Double basin/bowl sinks
Drain board sinks
Island bar/preparation sinks
Integrated sinks
Corner sinks
Our installers are experts in getting the job done properly the first time.
INTERESTED IN OUR SERVICES?
KITCHEN SINK INSTALLATION – WHICH SINK IS BEST FOR YOU?
The kitchen is the most used area of your Adelaide home, and it is essential that it is equipped with the right fittings and fixtures to make it as functional and practicable as possible.
The kitchen sink is more important than you might think. Just think about it, how often do you use your current sink, and what do you use it for? Before upgrading your kitchen sink, you will need to ask yourselves a few essential questions to ensure you're getting the best sink for your home:
How will the sink fit with the design of your kitchen?

To achieve maximum functionality, where is the best place for your sink. Is it aesthetically pleasing in that location? Does it have a good view?

Is there enough room for your dishes?

Is the sink big enough for the types of dishes you have?

Where is the dishwasher located?
INTERESTED IN OUR SERVICES?
single or double sink?
Another choice to make is whether or not you want a single or double sink. 
Most Adelaide homeowners select a double sink as it gives greater flexibility and functionality within your kitchen. However, a double sink will provide you with two smaller basins rather than one larger one. If you're someone who cooks with a lot of large pots and pans, a single and larger sink could be more practicable.
INTERESTED IN OUR SERVICES?
sink in the island bench?
Most modern kitchens come equipped with an island bench. Some homeowners choose to have the kitchen sink located on the bench, and others don't.
Before deciding whether to install a kitchen sink in your island bench, consider the full functionality of your kitchen. A sink in the island bench can make it difficult if you entertain a lot. Valuable serving space is taken up by a sink, and your dirty dishes are on full view to anyone sitting at the bench – not to mention the splashes of water over your guests while you rinse dishes etc.
On the other hand, a sink in the island bench can provide a great location for drinks in ice during your next party!
INTERESTED IN OUR SERVICES?
Kitchen Sink Installation types
Once you've considered these aspects, you're then ready to decide what kind of sink installation type will suit your needs. We can install a wide range of kitchen sinks and can either install or supply and install for you. Our installers are experts in getting the job done properly the first time. Here are just some of the options available: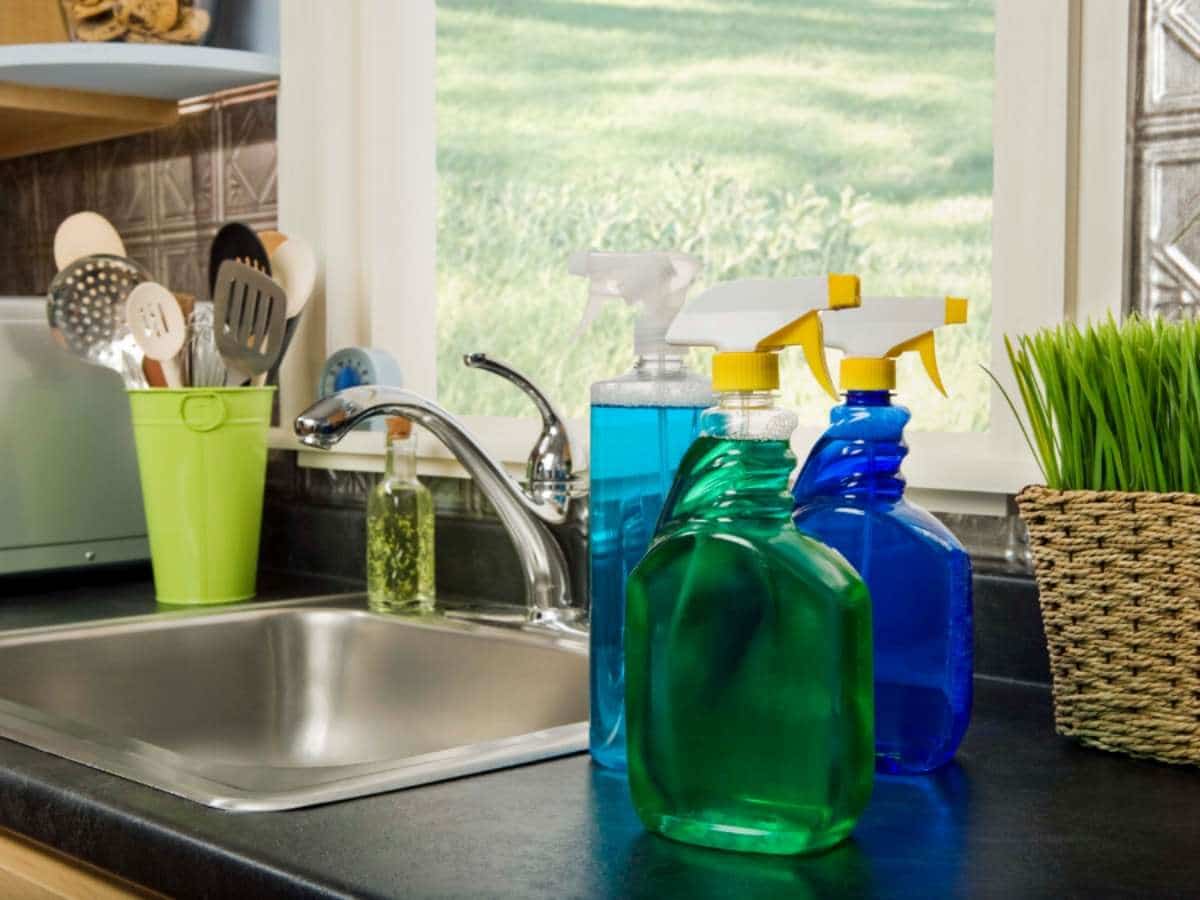 Topmount
Topmount sinks have been the most standard choice in kitchen sink installations in Adelaide for many years. These sinks are installed on the top of the benchtop. The lip is sealed to ensure the edges of the sink remain waterproof. Topmount sinks are easy and cheap to install.
Undermount
Undermount sinks are gaining in popularity. Sitting below the surface of the bench gives a clean, streamlined finish. Undermount sinks look great with stone benchtops. They're generally a little more expensive to install than a top-mount sink. The hole needs to be cut precisely in the bench to accommodate the exact dimensions of the sink. And extra support is required beneath the sink. Keep in mind that some styles need more support which can compromise cupboard space under the sink.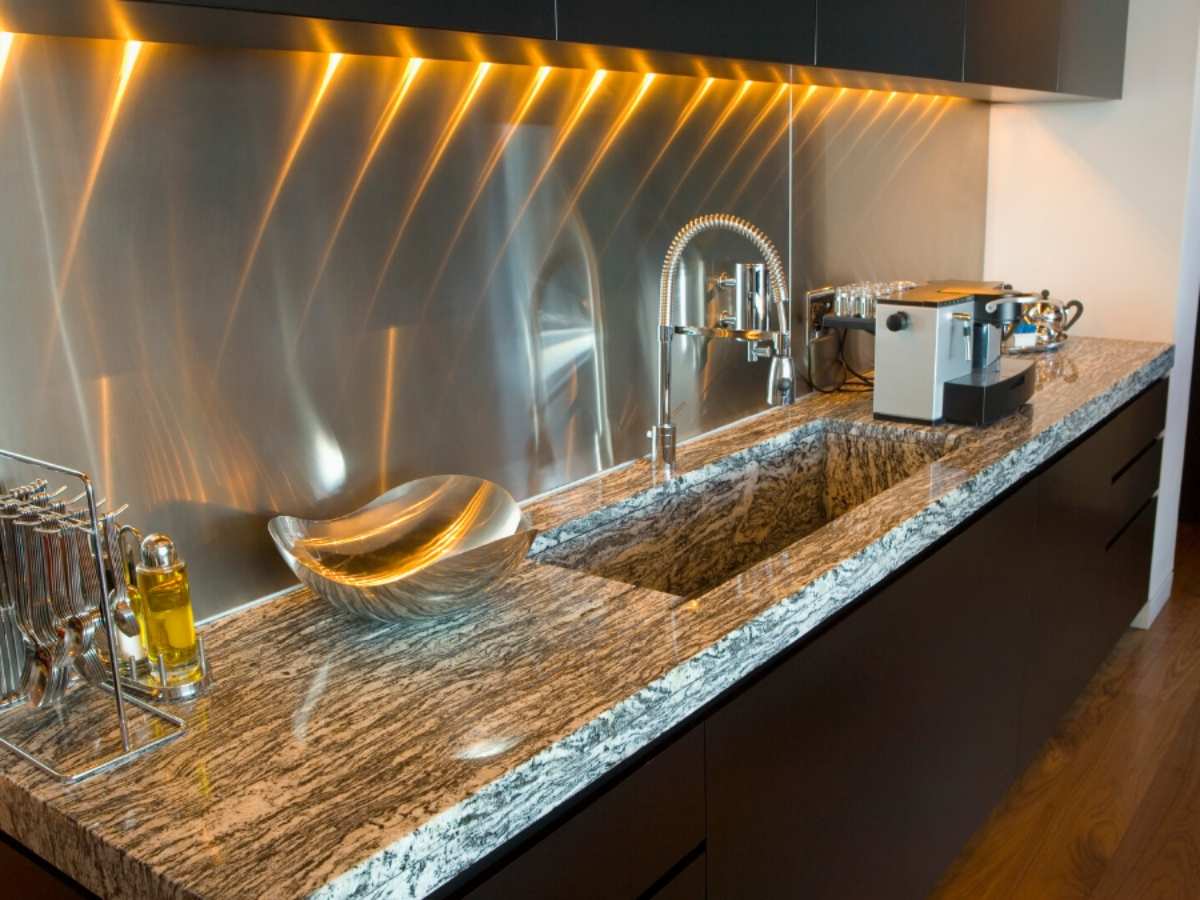 Flushmount
Flushmount sinks form part of the benchtop. There are no edges, lips or rims to the sink, and they provide a streamlined look.
Butlers or Farmhouse Sink 
A Butler's sink is another style gaining popularity. It's a rectangular, usually ceramic sink with a rounded rim which is set into the benchtop and cabinetry. Specialised cabinetry can be required to accommodate the size and weight of the sink.
Also, consider:
Double basin/bowl sinks

Drainboard sinks

Island bar/preparation sinks

Integrated sinks

Corner sinks
Lucas Plumbing and Gas Solutions are happy to consult with you on the best sink for your requirements and install your new sink and your Adelaide home.
INTERESTED IN OUR SERVICES?
COMMERCIAL SINK INSTALLATION
Lucas Plumbing and Gas Solutions also offer a range of commercial plumbing services including commercial fit-outs, kitchen and commercial sink installation.
Most commercial sinks are made from stainless steel – either 304 stainless steel or 430 stainless steel. 430 is less resistant to corrosion. Generally, in a commercial kitchen, you will require multiple sinks. Hand washing sinks specifically designated for washing hands. Food preparation sinks and pot washing sinks.
The professional and fully licensed team from Lucas Plumbing and Gas Solutions are able to assist your business with commercial sink installation in your kitchen, cafe or restaurant.
We are the plumber Adelaide businesses trust for commercial plumbing also specialising in areas such as science labs, dentists and car washes.
INTERESTED IN OUR SERVICES?
TIPS TO LOOK AFTER YOUR KITCHEN SINK AND DRAINAGE
Once you've spent time and money on the perfect sink installation for your Adelaide home, you're probably wondering how to keep it looking like new. Here are our top tips on how to look after your new sink and kitchen drainage to keep everything functioning as it should.
Our number one tip and one we can't stress enough. Fats and oils will harden as the drainpipe cools and is the number one cause of blockages.
A great tip is to wipe fats and oils from pots and pans with a cloth or paper towel before rinsing them.
Food should also be removed from all dishes before rinsing as well. Fats and oils, certain foods and other products rinsed off in the sink will build up causing blockages in the drainpipes.
Even if there is no immediate or urgent sign of a blockage, the damage is still being done. Smelly drains are a good indicator of a problem.
If you suspect a blockage, steer clear of chemical drain cleaner s as these can cause cracking and damage to your drain pipes. Use a solution of baking soda and vinegar followed by hot water to clear drains. If there is a definite blockage, try using a plunger to clear the blockage and if that fails, contact a plumber.
INTERESTED IN OUR SERVICES?
CARING FOR YOUR NEW KITCHEN SINK
To keep your kitchen sink in top condition always follow this cleaning routine:
Rinse your sink thoroughly with plain water after each use and towel dry,

Clean the sink with a suitable cleaner once a week,

Avoid harsh chemical cleaners, and glass cleaner makes a stainless steel sink sparkle!

Avoid leaving juice (lemon/orange etc.) on the sink,

Don't leave wet sponges on the sink.
The best cleaning solution for your sink is a mixture of baking soda and vinegar. This will leave stainless steel super shiny and porcelain looking like new.
INTERESTED IN OUR SERVICES?
Sink Installation – why it's best left to the professionals
Sink installation might seem like an easy DIY job to complete on a lazy weekend, but it's a job that is best left to the professionals.
Sometimes the location of drains and the location of fixtures will be different from your previous sink. This will require a change in the plumbing in your home. Plumbing work should only be completed by a licensed professional. Doing this will ensure that your kitchen or bathroom sink installation complies with local building codes and will leave you with a sleek and professional finish.
INTERESTED IN OUR SERVICES?
HOW WILL A PLUMBER INSTALL MY SINK?
Each sink installation varies, but as a general rule, a plumber will carry out the following steps when installing your new sink.
Measure your existing sink and note the location of plumbing to provide you with the best advice and solution on purchasing a new sink;

Remove the old sink. Removing a sink might seem like an easy job, but plumbing will need to be disconnected along with any garbage disposal or dishwashers. 

Install the new sink. Just like sink removal, sink installation might seem easy, but it's best left to the professionals. Plumbing will need to be reconnected or moved to suit the new sink and garbage disposal and dishwashers reconnected.

A plumber will also use the correct sealant to ensure the area around your sink is watertight so that there are no future leaks.
Often drainpipes and other plumbing may need to be replaced if they are worn or damaged. Only a licensed plumber, such as those from Lucas Plumbing and Gas Solutions, will be able to diagnose and replace worn and damaged pipes.
INTERESTED IN OUR SERVICES?
Types of Bathroom Sinks and Vanities
There is nothing more exciting than a bathroom renovation, particularly if you've been looking at a tired and old bathroom for many years.
There is a lot that goes into planning, and one of the most significant decisions you will make is what kind of bathroom sink or vanity you will have.
Gone are the days of traditional china or porcelain bathroom sink. These days a bathroom sink can be made from various materials giving a sleek and stunning finish to your Adelaide bathroom. Metal, cast iron or a solid surface such as the same as your countertops are great and very popular choices along with glass.
A bathroom sink can be the focal point of the room, and once you start researching sink and vanities, you'll see just how many choices you have. Let's take a look at the different types available and what will suit your Adelaide home.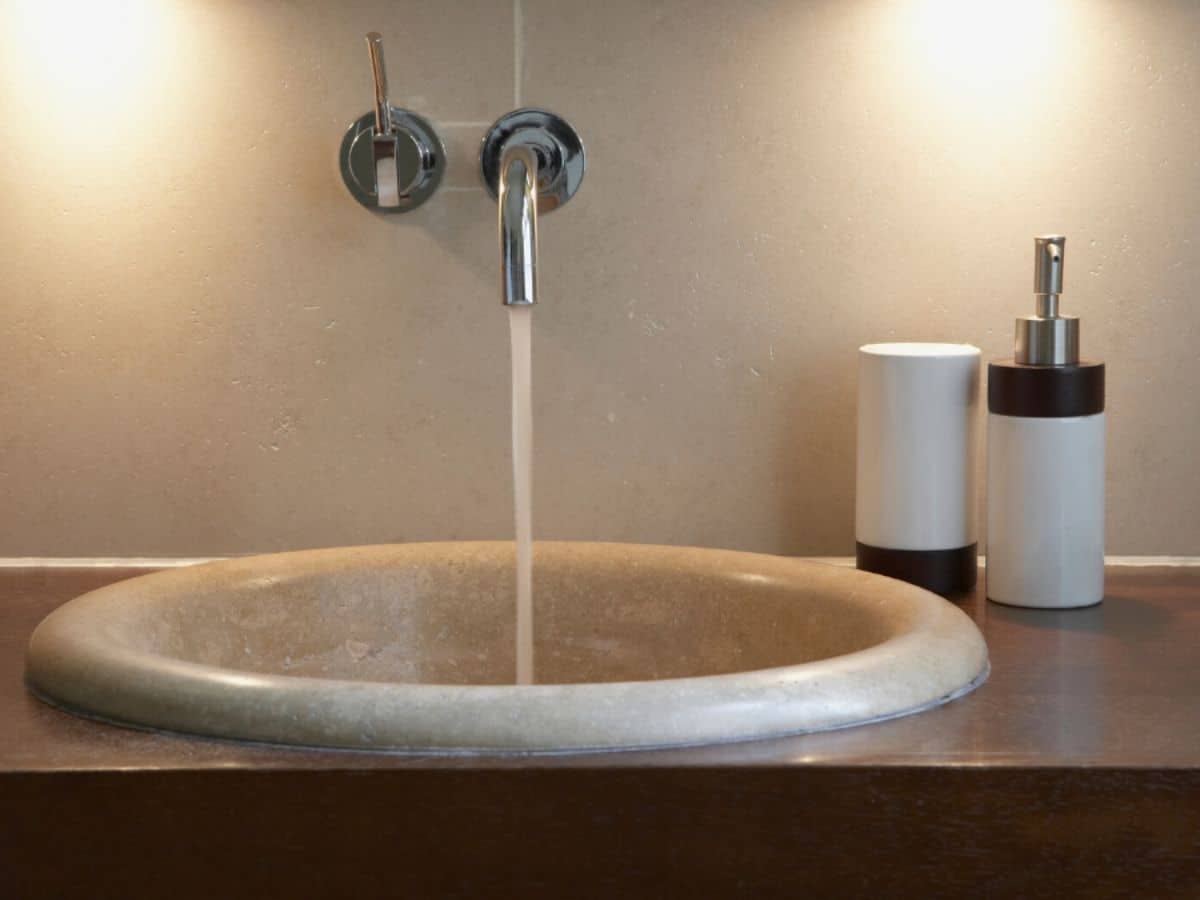 Self-rimming sink
A self-rimming sink is probably the most common in Adelaide homes. They are also known as drop sinks and are installed above the countertop. Self-rimming sinks are the easiest to install and can be installed without making too many significant alterations to your countertops. They can also be used with any type of countertop, making it easy to freshen up your bathroom or ensuite without making significant and expensive changes.
Undermount sink
An undermount sink sits under materials such as granite, marble or concrete. Sinks and countertops must be specially made to suit each other, and if you would like to update either in the future, you will most likely need to replace both the sink and countertop.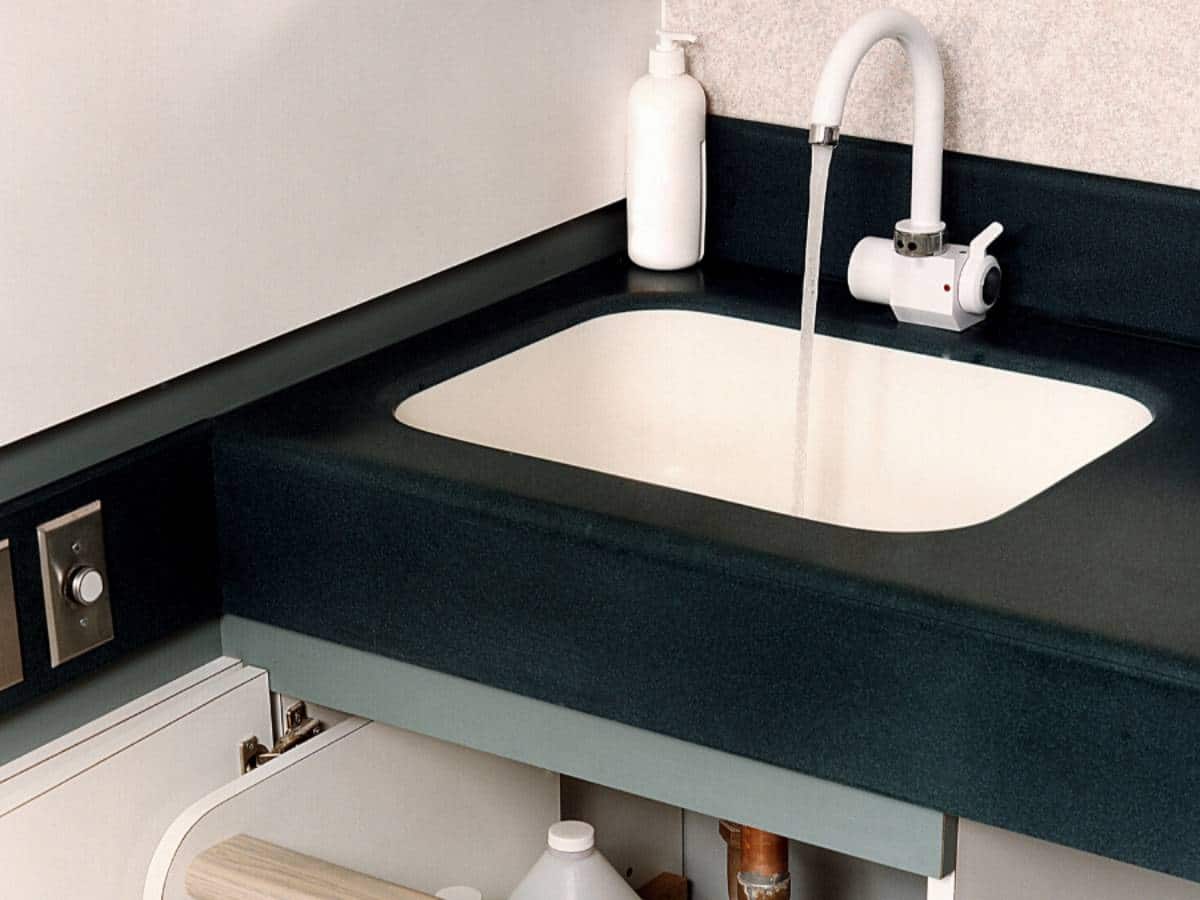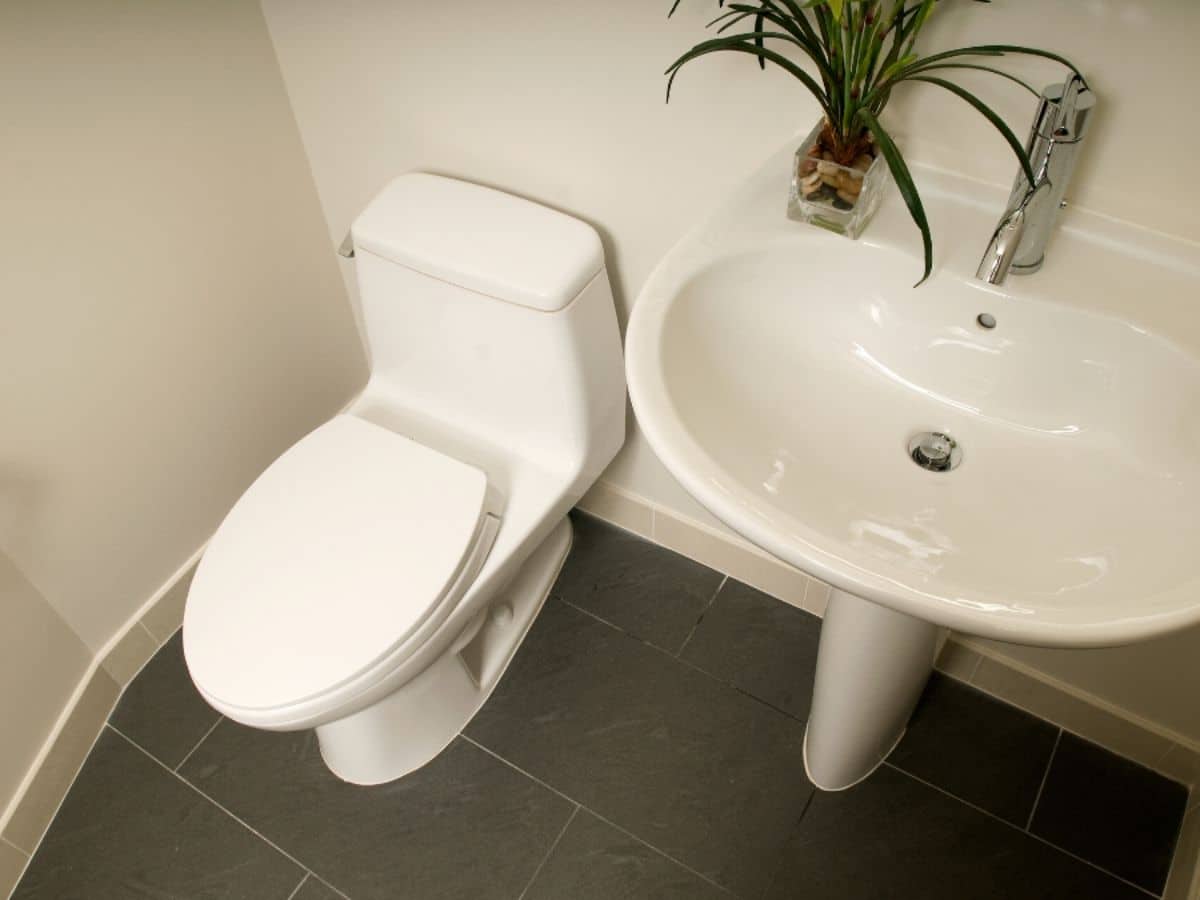 Pedestal sink
Perhaps not the best choice for a family or main bathroom but definitely an alternative for a small bathroom or ensuite where storage is not required or is elsewhere in the bathroom. A pedestal sink is freestanding and is supported by a short column beneath the sink. Storage around a pedestal sink is limited, but there are many beautiful features of a pedestal sink that will become the focal point of your bathroom.
Vessel Sinks
Vessel sinks have become very popular in recent times. They can be any shape or size and sit on the vanity rather than being recessed into the countertop. Vessel sinks come in many different materials, but we personally can't go past stunning glass.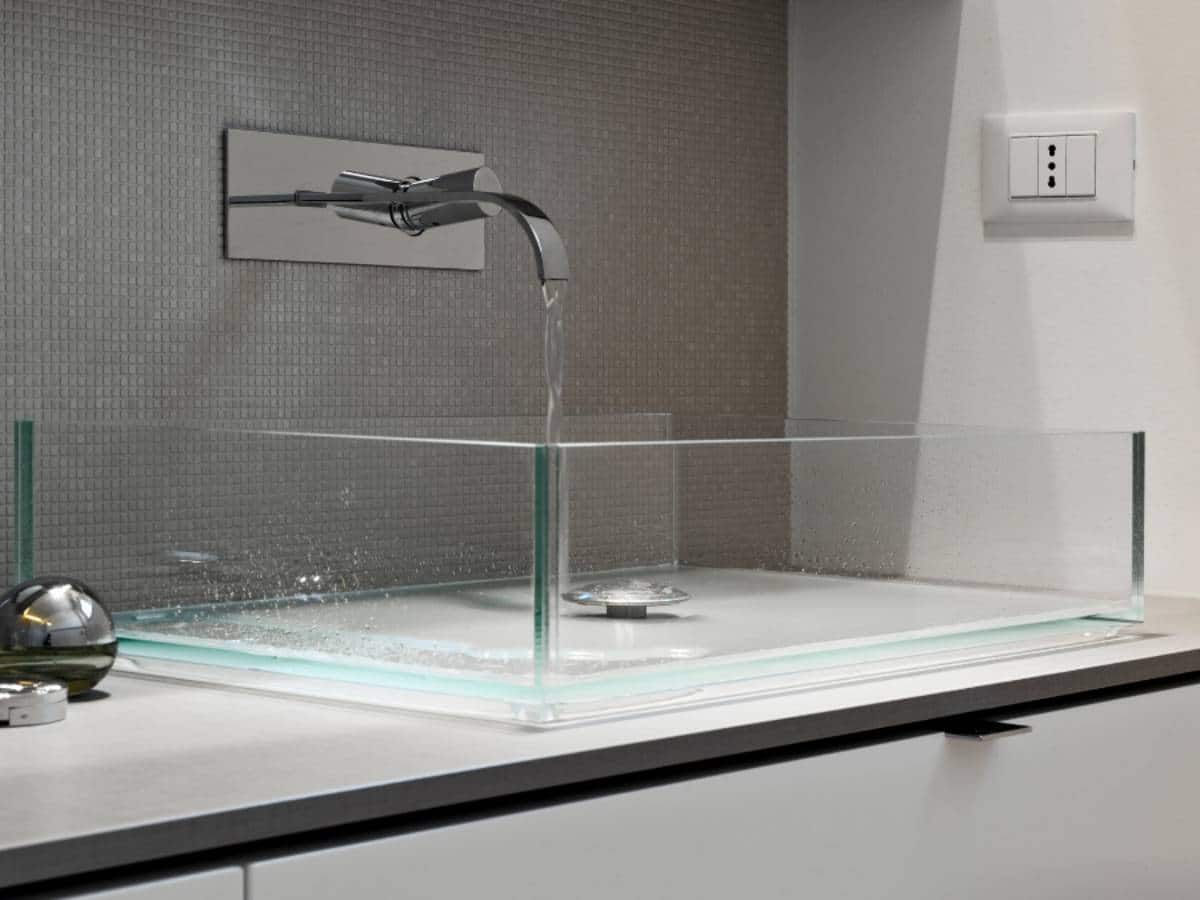 Wall hung sink
A wall hung sink is fixed directly to the wall. There's no countertop or vanity, but a wall hung sink allows extra floor space or space for a towel rail beneath the sink. A wall hung sink is again probably not suited to a primary or family bathroom due to the lack of counter space, but in a small ensuite or guest toilet, it's a perfect choice.
Vanity bathroom tops
A vanity bathroom top is a sink and countertop combined into one. Often it will sit on top of a vanity or storage, making it the ideal choice for a primary or family bathroom. When considering storage, keep in mind that in most cases, the vanity will also house the plumbing.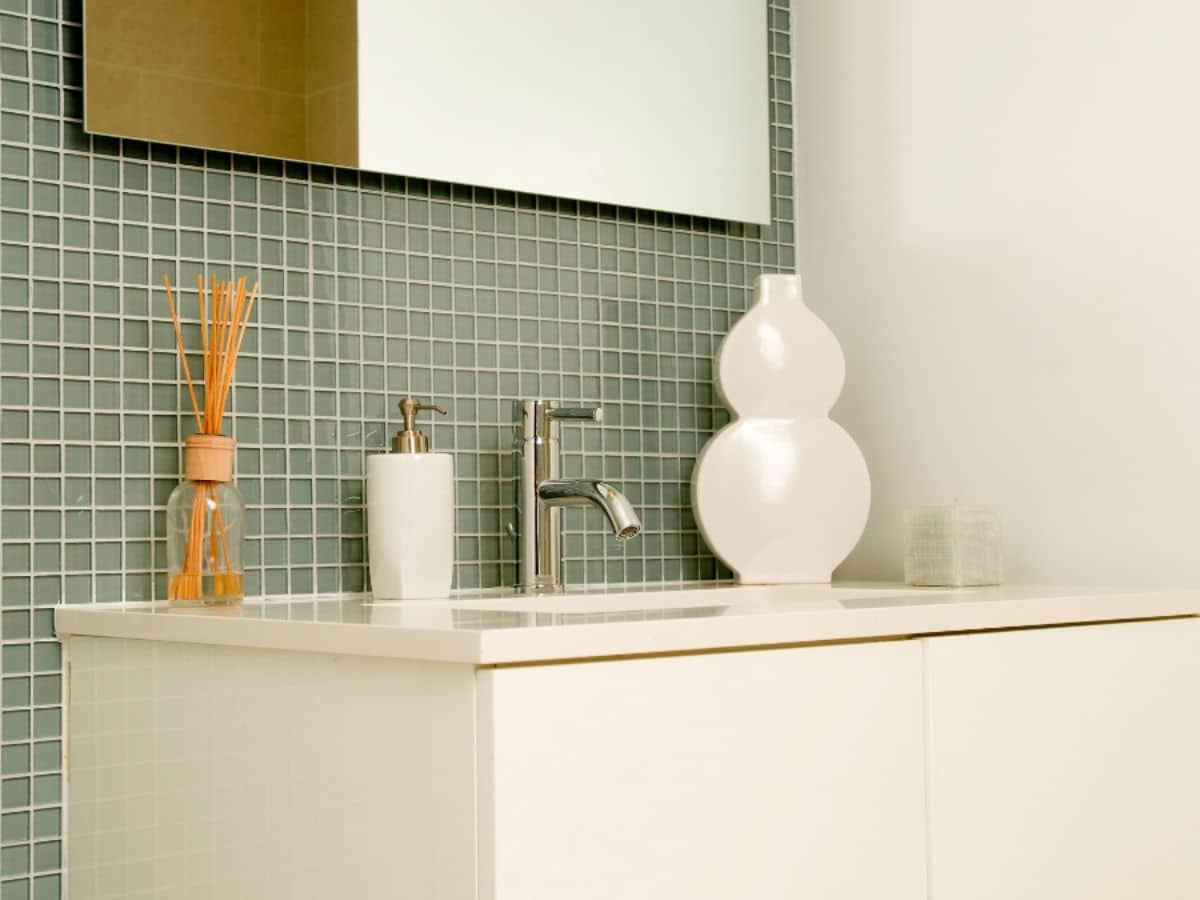 INTERESTED IN OUR SERVICES?
gREAT CLEANING HACKS FOR A GLASS SINK
Once your glass bathroom sink installation is complete, we're sure you'll be trawling the internet looking for the best cleaning hacks to keep it sparkling.
One of the best pieces of cleaning advice we can give you is to steer clear of harsh chemicals and cleaners. They're just not necessary and have the potential to damage plumbing within your bathroom.
A glass bathroom sink will often become dirty through a mix of grime, soaps and hard water. Regular cleaning is required to clear the build-up.
A solution of water, vinegar, a dash of dish soap and your favourite essential oils is the perfect cleaning product for your glass bathroom sink. Simply spray and wipe. This solution can also be used on shower screens and doors as well. Use this every couple of days the keep your bathroom sink sparkling and looking like new.
It's also a good idea to always keep your bathroom well ventilated to help prevent a build-up of mould and mildew.
INTERESTED IN OUR SERVICES?
OTHER SERVICES
Lucas Plumbing and Gas Services is the plumber Adelaide trusts for a wide range of services. Not only do we deal with cctv drain camera inspections (drain camera inspections), but we can also do:
Gas Fitting
Leaking Taps
Drain Cleaning
Hot Water Units (Rinnai hot water is our preferred brand)
Heat Pumps
Residential and Commercial plumbing services
along with kitchen renovations, bathroom renovations and project management.
INTERESTED IN OUR SERVICES?
COMMERCIAL AND INDUSTRIAL SERVICES
INTERESTED IN OUR SERVICES?