plumbing maintenance adelaide
Lucas Plumbing and Gas Solutions can provide you with expert plumbing maintenance for your Adelaide property!
We are reliable and cost effective plumbers that can fix your plumbing problems fast.
Plumbing Maintenance for Adelaide Property Owners
Lucas Plumbing and Gas Solutions offers an expert maintenance service to make sure that all of your plumbing and gas needs are serviced at all times.
Lucas Plumbing and Gas Solutions also offer an emergency service for your plumbing or gas fitting.
Making sure that your plumbing and gas services are properly are correctly maintained is crucial to prevent long term issues.
Simply give us a call and let us look after it for you.
INTERESTED IN OUR SERVICES?
Types of plumbing maintenance
There are a number of services that we can offer for all of your plumbing maintenance. This is extremely useful for landlords of rental properties and people that are wanting to maintain their existing plumbing within good standards.
This might include:
INTERESTED IN OUR SERVICES?
How to keep plumbing in your home working at its best
It can be tricky to figure out which plumbing around your home requires maintenance. What can you do yourself? And what do you need to call in the professionals for?
Here are a few tips to point you in the right direction and save you money on expensive repairs and replacements.
Taps and Showerheads
If not maintained correctly or fixed as soon as a leak appears you could be wasting around 20 000 litres of water PER TAP every year! And, if it is a hot water tap, you are also wasting energy.
It is safe to say that maintaining and fixing leaks in your taps and showerheads is essential.
A dripping tap is usually a sign that you need to carry out tap repairs and maintenance. In most cases, this can be a DIY fix if you have the right tools and spare parts. Otherwise, call in the professionals.
Sometimes a tap can leak from the base and this is a plumbing job best left to a licensed plumber. When you engage with a plumbing company, your plumber is fully licensed and insured. Often there are no call out fees and all workmanship guaranteed. A lot of plumbing businesses are family owned and operated and many (if they have a website) even offer online bookings!
A DIYer can help keep their taps and showerheads in great working order by cleaning the tap aerators every year. This will ensure you get an even flow of water from the tap. You can also check that the overflow holes in sinks are clear to prevent flooding.
Drains
You can prevent drain blockages within your home with regular maintenance and educating your family on what you should and shouldn't put down the drain.
In showers and baths – soap and hair can bind together to cause a blockage. Fit your drain with a strainer and regularly clean it to prevent blocked showers and baths.
Never flush baby wipes, sanitary items, and other foreign objects down the toilet.
And, in the kitchen avoid pouring fats, oils and flour down the drain. These items will cause blockages.
Avoid using caustic drain cleaners (like Drano) to clear a blocked drain as these products can causing damage to the pipework. A great quick clean that is suitable for regular use is to mix some vinegar and baking soda together and pour this in the drain. Follow it up with some hot water. Or you can engage an Adelaide plumber who has all the necessary tools and equipment for drain cleaning to help prevent drain blockages.
Toilet
Toilets are another source of water leaks that are often unnoticed. There are washers within the toilet that wear with use and as they age, will cause the toilet to leak.
You can check if your toilet is leaking by adding some food colouring to the cistern. Don't flush the toilet for an hour or two and then check the bowl. If the water is coloured, then you have a water leak. Most toilet leaks are an easy repair; however, it might be one best left to the professionals.
Gutter Cleaning
Your gutters should be regularly cleaned to keep them free of debris. If debris is left in the gutter it can cause a blockage somewhere in your outdoor plumbing. This could result in an expensive repair bill!
You can hire a gutter cleaning professional (recommended if you live in a two-story home) or you can grab a ladder and some gloves and start clearing the debris yourself.
Once you've cleared the debris, you can carry out backflow tests by running a hose into your gutters and watch whether the water backs up around the downpipe or drain.
Another handy tip is to look at the gutters when it is raining, if the water is leaking out then there could be a blockage.
Major blockages in your plumbing system will need to be repaired by a licensed plumber.
Hot Water System
To maintain a long and healthy life, your hot water system will require regular servicing and maintenance. We suggest about every 2 years. You can call a plumber to service your hot water system or you can do this yourself.
Every 6 months, drain the water from the tank. This will help clear out any mineral build up which can affect performance of your hot water heater. Visually check the entire unit for signs of leaks, if you notice anything different or out of the ordinary, contact a plumber. And don't forget to check the anode rode. These generally need replacing every 2-5 years.
Septic Tanks
Septic tanks should be inspected and pumped out every 3-5 years. This should only be done by a professional plumber.
In between inspections, homeowners should carry out the following maintenance regularly:
Trim back trees to prevent roots damaging the system;
Visually check the tank;
Check the level of the tank (if you can), it should not be any more than two-thirds full;
Make sure the system is cleaned off regularly so it can be accessed by a plumber;
Report any unusual smells or large unusual patches of green grass around the distribution area to a plumber immediately.
Water filtration systems
Water filtrations systems can be easily forgotten about. These systems will need filters changed and cleaned regularly. This is another plumbing job that is best left in the hands of a professional. If you're pressed for time, check out a plumbing company online, many businesses offer a range of plumbing and maintenance services with online bookings.
INTERESTED IN OUR SERVICES?
Commercial Plumbing Maintenance
Did you know that Lucas Plumbing and Gas Solutions can also take care of your Commercial Plumbing Maintenance? We service most of the Adelaide metropolitan area including Aberfoyle Park, Glenelg and Elizabeth. And we're family owned and operated!
The benefits of Commercial Plumbing Maintenance are endless. Most importantly though, you could be saving yourself thousands of dollars in expensive emergency plumbing repairs by regularly engaging with a licensed plumbing company to service and maintain your commercial property.
INTERESTED IN OUR SERVICES?
COMMERCIAL PLUMBING MAINTENANCE – WHY IS IT IMPORTANT?
Regular inspections by a qualified and licensed plumber will identify most minor issues before they become a plumbing emergency. Inspections can identify any safety hazards in your workplace and will ensure you meet legislated testing and maintenance requirements.
Regular inspections can also save you money! Adelaide plumbers from Lucas Plumbing and Gas Solutions can identify minor issues and provide you with a course of action to fix it. Usually, a minor problem will require no downtime for the business. It is usually a quick and simple repair. If the minor issue isn't identified while it is minor, it can turn into an emergency plumber repair. Emergency plumber repairs are costly and can result in the workplace having to shut down while the repair is being carried out.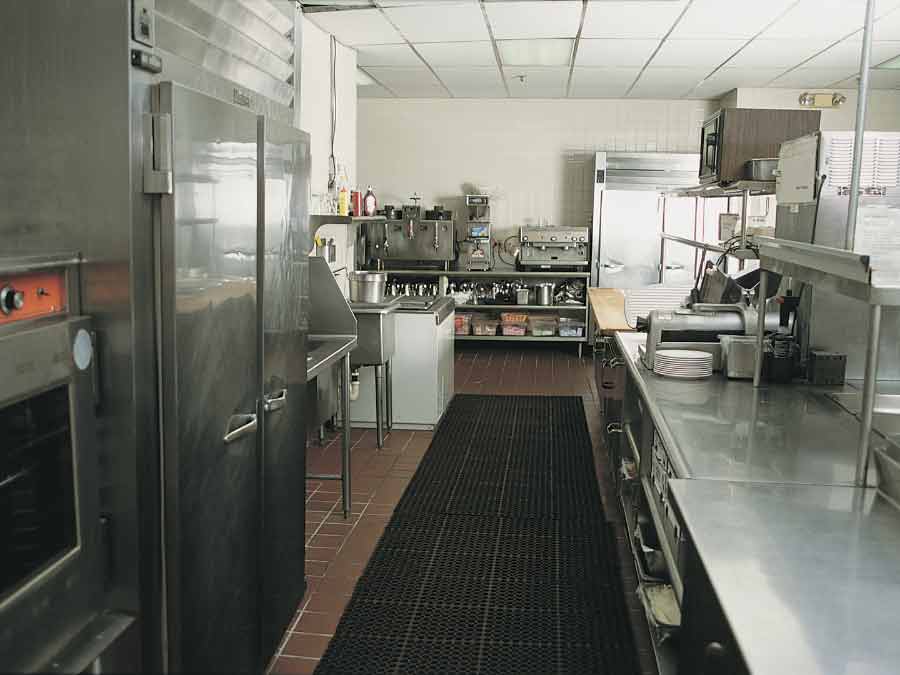 INTERESTED IN OUR SERVICES?
COMMERCIAL PLUMBING MAINTENANCE – WHAT TO EXPECT?
Generally, during a commercial plumbing maintenance visit, your plumber will check the following areas:
Water usage – if your usage is unusually high your plumber with check for leaks and other issues and provide you with a course of action;
Sewer and stormwater systems will be inspected;
Where appropriate, roofing and guttering will be inspected along with water catchment areas.
Solar, electric and gas hot water systems will be inspected.
Once the inspections have been carried out, any faults will be reported to you with plans to carry out repairs. As with any plumbing work, always seek a quote before agreeing to any repairs and be sure to check for hidden costs such as call out fees.
INTERESTED IN OUR SERVICES?
How to keep the plumbing in your home leak and trouble-free
Let's be honest – most Adelaide metropolitan homeowners don't think about their plumbing systems until something goes wrong! It only takes a morning without hot water or a backed-up sewage system for you to start thinking "what can I do to prevent this happening again?"
Maintaining and servicing your plumbing and appliances (also known as preventative maintenance) can prolong the life of your plumbing and appliances. Fixing small problems, clearing small drain blockages, drain cleaning, gutter cleaning and replacing washers and valves can all contribute to your plumbing operating at its best and help keep big and expensive issues at bay.
INTERESTED IN OUR SERVICES?
things you can do to help keep your plumbing in tip-top condition
Avoid drain cleaners. Yep, you read that correctly! Avoid harsh drain cleaners as these will often cause damage to your plumbing pipes. A better solution is a mix of vinegar and baking soda. Or you could try a drain snake. If a blockage is particularly stubborn, you will need to call in a licensed and qualified plumber.
Also, be careful of what goes down the drain. Fats, oils, soap and hair can all cause major blockages if they are left to build up.
Taking note of your water pressure is a good idea. Often a drop in water pressure, inconsistent water pressure or low water pressure can indicate a problem with your electric, solar or gas hot water systems.
Every 6-8 months take a walk around your home and check for leaks. Take note of walls around wet areas, cupboards under plumbing and tiles in bathrooms and your laundry. Outside, look for unusual patches of green grass or unexplained puddles of water. If you notice anything unusual, contact a plumber for advice and assistance.
A few simple steps, every couple of months, could save you money and the hassle of an emergency plumbing repair.
INTERESTED IN OUR SERVICES?
Why have your drains professionally cleaned?
You might be thinking to yourself, why pay for a plumber to professionally carry out drain cleaning when you can do the same job yourself with a couple of tools and cleaners from the hardware store. And you are right, this is a job you can do yourself. But there are extra benefits to your home and plumbing systems by engaging an Adelaide plumber to carry out drain cleaning.
Firstly, drain cleaning chemicals commonly found in supermarkets and hardware stores will cause damage to your plumbing. The chemicals in these cleaners will cause your pipes to decay, leak and eventually burst resulting in an emergency plumbing situation. To have burst pipes repaired is expensive!
INTERESTED IN OUR SERVICES?
PROFESSIONAL DRAIN CLEANING
A plumber comes equipped with tools to suit any drain including CCTV cameras so you can see what is really happening in your plumbing.
Some noises within the home are caused by dirty pipes. Once these are professionally cleaned, these noises will be a thing of the past!
And the number one benefit of professional drain cleaning – you won't have to worry about drain blockages. In most cases, blocked and clogged drains are classed as a plumbing emergency which can be expensive and disruptive to your home.
Regular professional drain cleaning will ensure your drains are left at their best meaning you don't have to worry about soap, hair, fats and oils building up within the pipes.
INTERESTED IN OUR SERVICES?
BENEFITS OF PLUMBING MAINTENANCE
Today, we lead such busy lives, it can be easy to forget about maintenance around your home. Plumbing maintenance is one item you want to check of your to-do list. Whether you maintain as much of the plumbing as you can yourself or call in the professionals – maintaining your plumbing will save you big dollars in the long run.
There are also other benefits, such as better water pressure and hotter water. Your hot water heater might not be heating to capacity due to a build-up of minerals. Or maybe there is a leak somewhere causing low water pressure. Regular maintenance and servicing will identify these problems for a quick and easy fix.
Gas leaks can be dangerous for your health and family. Regularly servicing gas hot water systems, gas appliances and checking your main gas line will ensure the safety of you and your family. Remember, only licensed gas fitters should carry out repairs to your gas hot water system and other gas appliances.
You will have less of a chance of a plumbing emergency arising if your drains, pipes and appliances are regularly serviced and you can be increasing value to your property if you can show that the plumbing is well cared for.
So, what are you wating for? Set some time aside this weekend to finally tick pluming maintenance off the to-do list or call us at Lucas Plumbing and Gas Solutions to arrange for our licensed and friendly Adelaide metropolitan plumbers to perform a complete service of your appliances and plumbing systems.
INTERESTED IN OUR SERVICES?
OTHER SERVICES
Lucas Plumbing and Gas Services is the plumber Adelaide trusts for a wide range of services. Not only do we deal with cctv drain camera inspections (drain camera inspections), but we can also do:
Gas Fitting
Leaking Taps
Drain Cleaning
Hot Water Units (Rinnai hot water is our preferred brand)
Heat Pumps
Residential and Commercial plumbing services
along with kitchen renovations, bathroom renovations and project management.
INTERESTED IN OUR SERVICES?
COMMERCIAL AND INDUSTRIAL SERVICES
INTERESTED IN OUR SERVICES?
Plumbing maintenance gallery
The Below gallery showcases some of our many services in Adelaide. Our highly skilled tradesmen can work with basic or complex plumbing solutions.